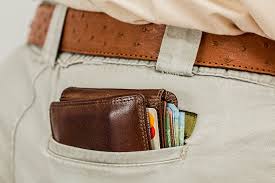 Imagine. You are on holidays in total relaxed mode as you enter a crowded café. Having found a table, you unsnap your fanny pack and hang it over your chair then scan the menu. You are soon focused on the food, the wine, and discussion with your travel partner and tune out the lively banter of the other diners. Your hunger and thirst now quenched and the bill delivered you reach for your fanny pack only to discover – it is gone, along with your passport, your cash and all of your ID and credit cards!
Or, while strolling through a crowded tourist area you carefully pat your wallet just to be safe, kept where it always is on the inside of your sports jacket or your back pocket. An hour goes by and you go to pay for the little memento of your trip only to discover – your wallet is gone!
Could either situation happen to you? Absolutely and it does far too often, abroad and at home! Even though most home insurance policies do cover theft of personal property while traveling it is subject to your deductible and with very limited coverage on money and securities. Just the thought of the bureaucratic nightmare of having to replace passports, health cards, drivers licenses, credit cards, not to mention the loss of your hard-earned cash, is enough to cause a cold sweat and a racing heart for most of us. What an ounce of prevention could do!
Although there is considerable information available about travel security these days, here are a few additional things we have come across. I suppose being in the insurance business has already left us with a heightened sense of security so that extra precautions are generally taken. With the March break coming up and many families heading out we thought it timely to share a few strategies to help reduce the chance of such misfortune. So, in no particular order –
1. Keep everything vital close to you and consider the insurance term "spread the risk". Why carry just one wallet or purse? Spread your cash, credit cards, etc., over two or three wallets or pouches.
2. Wallets in your back pocket tend to be easy targets for pickpockets but if you do like to carry one there for easy access, just keep a few dollars and a single credit card in it for small purchases. Some travelers will even carry a "decoy" wallet there stuffed with out-dated credit cards and a bunch of small bills to quickly satisfy a robber.
3. Second or third wallets (or pouches) carrying your passport, spare cash, credit card or other ID, could be kept in your front pants pocket (much harder to pick-pocket), a neck or under-arm pouch, hidden waste wallet, ankle pouch or a money belt.
4. With most travelers carrying purses, fanny packs or backpacks, typically stuffed with cameras, binoculars, GPS units, or cell phones, these are prone to being stolen and are certainly a target if you are robbed. Don't carry anything critical in one of these such as cash, credit cards, ID or your passport and be prepared to hand it over if you are robbed.
5. Consider fanny packs with wire in the belt section. They are much harder to be slashed and removed in a crowd. Some also come with locks which can then be securely fastened to a stationary object when not being carried making them difficult to steal. For backpacks, consider the wire mesh security kits when they are not being carried.
6. Leave valuables in your room safe when you're strolling along the beach or lying by the pool and just carry the minimum necessary at other times.
7. Lock your checked baggage.
8. Consider using your business address or card on your luggage. If it is lost or stolen, it will be returned to your work but the criminal element will also not know your home address and that you are not there.
9. Consider arranging for a low limit credit card say with a $500 cap. It limits the amount that might be accessed. For example, if you rent a car, boat or moped and are involved in a crash, you may find the rental company charges your credit card (until liability is established or insurance arrangements are made), for the full value of the rented item! Didn't know the boat was worth $10,000?
10. Leave all unnecessary items at home. Why carry store credit cards, auto club or other membership cards, etc., and risk losing them when you won't be using them?
11. Same with jewellery or expensive watches. Now is a great time to "bling up" with your costume jewellery and leave expensive or religious jewellery at home and in a safe place such as a bank safe deposit box.
12. Have photocopies available of your important documents – passports, visas, licenses, and so on.
There are literally hundreds of other travel security suggestions out there, which we also urge you research and review. Our hope is that every one of your trips and even your day-to-day routine around home is made safer and more secure with the use of these tips.
Travel Security Tips from the Advisors @ Guthrie Insurance Brokers Ltd