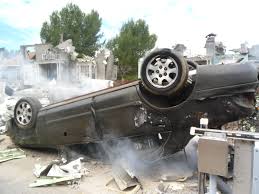 Winter weather and icy roads in particular seem to cause Ontario driver's considerable grief every year. Some feel it is just not "fair" that losing control on black ice, smashing your car and perhaps others, should count as an at-fault accident, often with resulting premium increases.
Following hundreds of conversations with clients over the years it seems that there is still considerable misunderstanding as to what constitutes an at-fault situation and what is considered not-at-fault. In every car accident there is always someone who is determined to be at-fault – either partially or entirely. It is this degree of fault that determines the applicable coverage, deductible, and of course future premiums.
The Insurance Act and the Fault Determination rules actually determine the degree of fault. You can refer to the fault chart at – www.e-laws.gov.on.ca/html/regs/english/elaws_regs_… to best understand how it applies in about 40 illustrated crash situations. It is applied regardless of weather, visibility, point of impact or actions of pedestrians and is allocated to each driver/vehicle-owner based on the closest scenario resemblance.
Ultimately, motorists are required to maintain control of their vehicle at all times and obey the laws. If you do not, and a crash results, you cannot blame icy roads, fog, blinding sunshine, or another driver who should have seen you. Sometimes almost "impossible" situations arise. Imagine driving down the highway, cruise control set at 110 K, nice sunny day and you hit a piece of furniture laying on the road that fell off some "idiots" trailer or an immense pothole. Crunch – $2,000 damage! And you guessed it…these are considered at-fault accidents! Please don't shoot us; we're just the messengers.
If you have a crash and there are damages or injuries and you are held entirely or partially at fault (any degree of fault above "0") it will count on your insurance record. The impact on your premium, however, depends on several factors such as "claims forgiveness" or if there was a previous at-fault crash. The best-case scenario is that the insurer will record the at-fault accident and your premium will not be affected, or at least a marginal premium increase. The worst case scenario, especially if it is a 2nd or 3rd incident, is premiums that can easily double or triple, especially so if it is combined with a serious conviction such as careless driving.
If the accident is determined to be not-at-fault e.g. you were rear-ended, there is no impact on your premium, however it is still recorded as part of your insurance history and needs to be mentioned when applying for insurance.
"How long do accident claims stay on my record". The official time frame pursuant to the standard Ontario Application for Automobile Insurance (OAF 1) is 6 years. That means that insurers consider ALL accidents and insurance claims arising from the ownership, use or operation of ANY automobile for a 6-year period (even though it may not affect your premium). On new applications ALL claims, regardless of type or fault, must be disclosed to the insurer, regardless of whether there is any premium impact or if you feel it was not-at-fault.
Whether or not police charges are laid following a crash is not necessarily an indicator of fault. If you have slid on ice into the back of another car the officer may decide not to charge you because of weather conditions, often saying "you're not at fault". Count yourself lucky that you don't have to go to court or get stuck with a nasty conviction, but in terms of insurance legislation, it is still an at-fault accident.
Important: Did you know that if you lend your car, you are also "lending" your insurance. If they are involved in an at-fault accident, it is your policy and insurance record that is affected, your liability insurance that pays if there is a lawsuit and your deductible and collision coverage that looks after your car?
Hit and run collisions e.g. car parked & hit by unknown driver, are treated a bit differently. If you do not report it to the police, usually within 24 hours, you will find insurers will presume it was really not a hit and run and may record it as an at-fault accident. Calling the police when someone has smashed your car then left the scene is the logical and appropriate measure to take.
Many types of claims have no bearing on premium rates. Accidents, which are not-at-fault, do not fall under your collision insurance but rather under your "direct compensation property damage" (DCPD). When another identified, Ontario licensed insured vehicle is 100% at fault, your insurer still pays the claim to you (and cannot recover from the at-fault motorist!), generally with no deductible, and does not impact your premium. Comprehensive type claims such as fire, thefts, vandalisms or hail damage, also will not affect your premium. Have too many though and your insurer may require a higher comprehensive deductible or refuse entirely to continue this optional coverage.
Tip: Did you know that if your car was stolen by another household member or certain employees and damaged or destroyed you are NOT covered under comprehensive coverage? Say "goodbye" to the unscrupulous relative who has just overstayed their welcome! There is coverage for this, however, under "all perils" (combines collision with comprehensive coverage), typically at higher deductibles.
At Guthrie Insurance Brokers , our endeavour is to help keep your costs as low as possible using effective and sound long-term claims management strategies. This sometimes means some "short-term pain" for "long-term gain" by looking after minor claims on your own. Consider the unfortunate motorist who backs into a concrete pillar causing $2500 damage to their car (no damage to pillar). Certainly, they are entitled to file a collision claim, pay their $1000 deductible, and have it looked after. They might not even see an increase if it was their first incident. If they later had a 2nd more serious crash any time over the next 6 years however the premium increase would likely far outweigh the cost of looking after the first incident on their own. As every accident situation is unique each must be carefully considered on its own circumstances. The first thing to always do in any altercation is to call us – your broker. In so doing, it is not being reported directly to an insurance company (which cannot later be retracted and will likely affect your premium) and we will help you decide on the best course of action for your long term budget and financial security needs.
The Insurance Advisors @ Guthrie Insurance Brokers Ltd